ArtieIsaac.com/birdwatching
Psychometric Assessments
What are Psychometric Assessments?
Artie Isaac has been trained and certified to administer several psychological assessments.
These tools invite you to click beside words you think describe you and words you think others use to describe you — then your answers are compared with millions of others' responses. What pops out of the computer: a theory of your psychology, a prediction of your behaviors, a suggestion of how you collaborate (and with whom) best.
Is this the truth about you? While the assessment creators tout measures of validity and reliability, Artie believes that these assessments are more like parlour games — not to discredit the assessments, but rather to acknowledge that no computer can (yet) lay bare your ultimate inner truth. Still, the benefits can be worthwhile: they spark powerful questions and conversations, and might lead to greater self-awareness and collaboration. 
Below are the assessments that Artie is trained to offer. Questions? Please contact Monica Leck at [email protected].
First, a note on boundaries.
These three boundaries were taught to me in training for Myers-Briggs and I have held to them ever since:
Agency — Employees have the opportunity to opt in (or out). Taking the assessment must not be a required employee activity.
Privacy — The results are shared only with the employee. Employees may share their results if they wish, but this must not be a required employee activity.
Use limits — The results can spark conversation, but must not be used as determinants for hiring or firing.
Why these boundaries?
I have seen psychometic assessments used by employers unprofessionally, with negative results, creating needless suffering.
Therefore, in my practice, as an ethical matter, psychometric assessments are the property of the individual. The individual has all authority over whether and how to participate.
I will always remember the immediate and deeply considered response of an employee who was asked to take an assessment with the rest of the team: "Oh, no," they said. "My psychology is my own private property."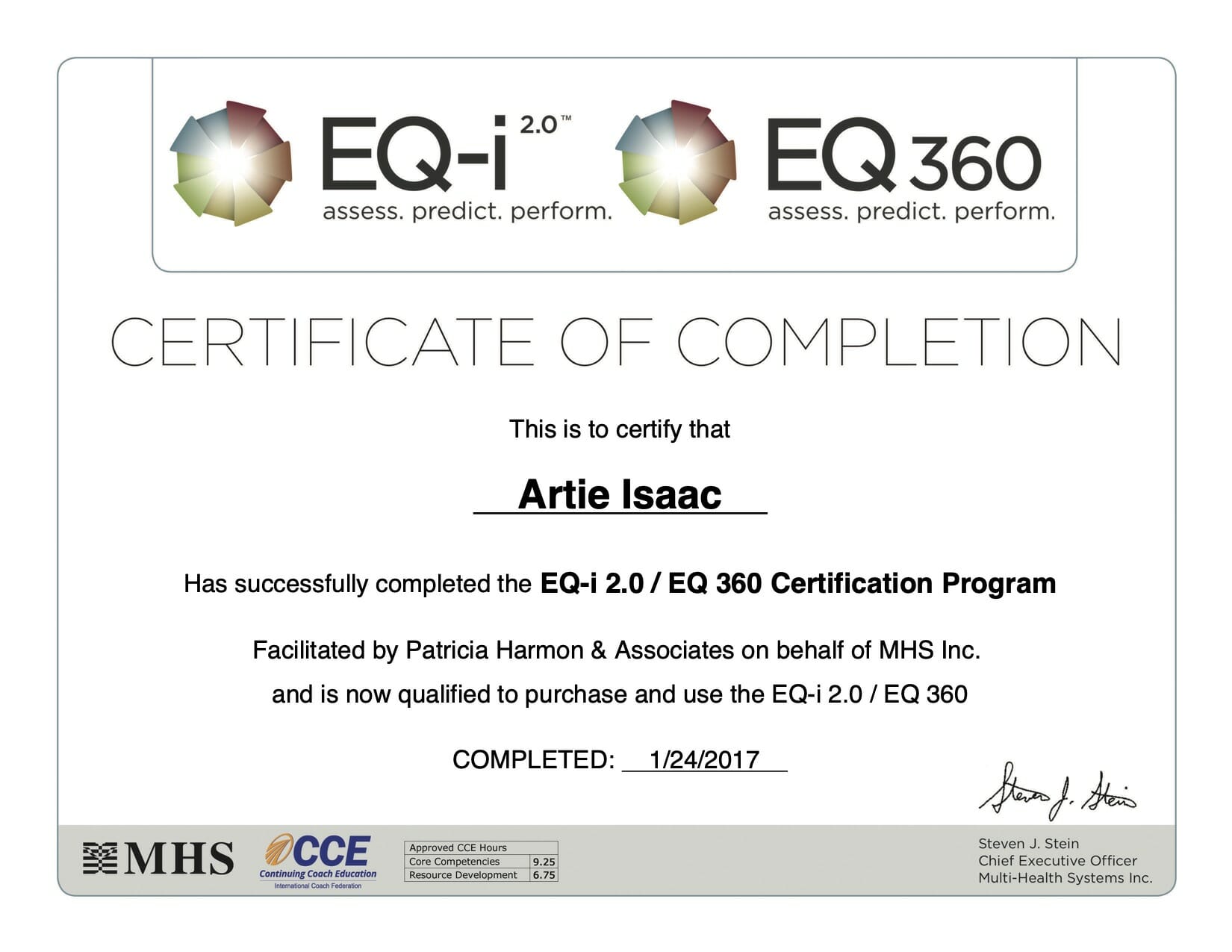 An assessment of your emotional intelligence
Emotional intelligence has been defined, by Peter Salovey and John Mayer, as "the ability to monitor one's own and other people's emotions, to discriminate between different emotions and label them appropriately, and to use emotional information to guide thinking and behavior."
The EQ-i assesses your grasp of and reliance on a variety of skills that demonstrate emotional intelligence. The EQ 360 assesses your individual self-assessment — contrasted with the assessment by those around you.
Here is a short description from the creators of the assessment tool.
A delight of this assessment is that it proposes to reveal skills, not attributes. That is, you can build your emotional intelligence skills; you aren't stuck for life with your current skills.
If you want to explore the development of your emotional intelligence skills:
EQ-i 2.0 (Workplace context), $90 for Vistage members, $250 for others
EQ-i 2.0 (Leadership

 context)

, $120 for Vistage members, $300 for others
EQ 360 (Workplace

 context)

, $300 for Vistage members, $750 for others
EQ 360 (Leadership

 context)

, $400 for Vistage members, $850 for others
The prices are based on the third-party vendor cost, plus time charges for non-Vistage members.
To participate, contact Monica Leck: [email protected]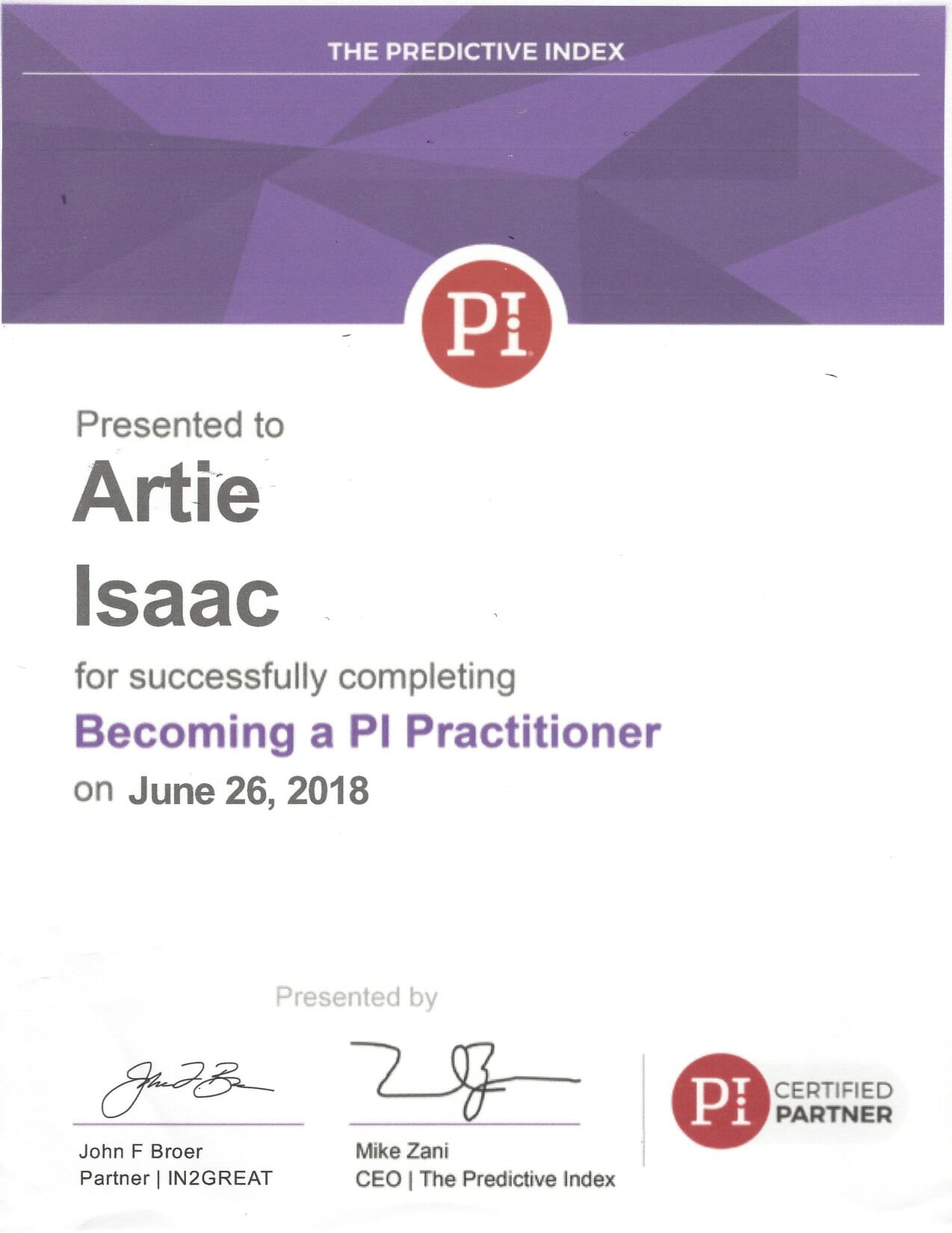 An assessment of your drives, needs, and behaviors
If we rely only on someone's resume, we are guessing at their underlying motivations. If we can illuminate their drives, we can predict their behavior. That's the theory of Predicdtive Index: identify the drives, understand the needs created by those drives, and predict the consequent behavior.
This also works in the mirror.
Vistage and Predictive Index have united to train Vistage Chairs in Predictive Index. Chairs are permitted to offer Predictive Index, free of charge, to Vistage members and to the leadership teams of Vistage members.
If you are a Vistage member (or candidate) and would like Artie to administer the Predictive Index, please contact Monica Leck: [email protected]
I am lightly trained to use this assessment. I can help. But for a deeper understanding and many more opportunities for use and value, contact the folks who trained me: https://www.realgoodventures.com/our-team.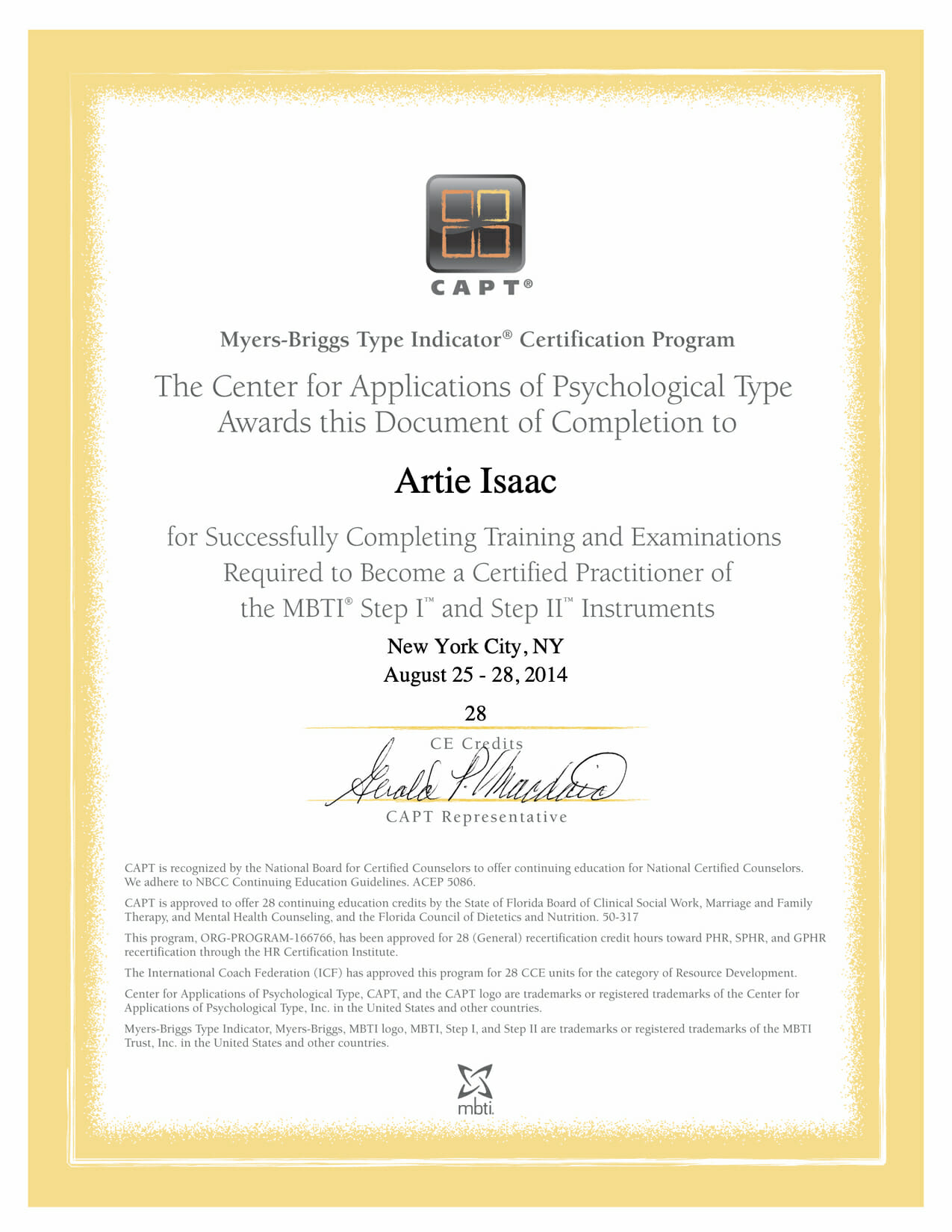 Myers-Briggs Type Indicator® (MBTI®)
An assessment of your drives, needs, and behaviors
The Myers-Briggs Type Indicator (MBTI) assessment is a psychometric questionnaire designed to measure psychological preferences in how people perceive the world and make decisions. These preferences were extrapolated from the typological theories proposed by Carl Gustav Jung and first published in his 1921 book Psychological Types (English edition, 1923).
The original developers of the personality inventory were Katharine Cook Briggs and her daughter, Isabel Briggs Myers. They began creating the indicator during World War II, believing that a knowledge of personality preferences would help women who were entering the industrial workforce for the first time to identify the sort of war-time jobs where they would be "most comfortable and effective". The initial questionnaire grew into the Myers-Briggs Type Indicator, which was first published in 1962. The MBTI focuses on normal populations and emphasizes the value of naturally occurring differences.
MBTI can help workplace collaboration, as well as significant life partnerships.
If you want to explore the MBTI, here is one of many free online resources. After you complete the assessment, bring it to Artie for a conversation. To schedule this conversation, please contact Monica Leck: [email protected]
What's "Birdhouse"? Birdhouse is the combined membership of the peer groups chaired by Artie Isaac. Like birds of different feathers, flocking together. Please refer candidates to ArtieIsaac.com.